LINKS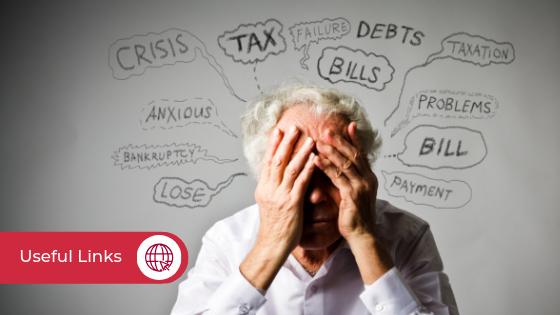 Worried about debt?
If you're worried about debt there is lots of FREE advice and support available.
You can get free debt advice which could help you with the stress and worry. It will tell you what to expect and what steps your creditors can take to collect the money. Stepchange can provide you with all the information you need to understand what your creditors can do. Visit Stepchange Dealing with Debt
Try this 60-second debt test which lets you know if you're showing signs of having problem debt. This may help you identify that you are struggling and help you find support and advice.
www.moneyaware.co.uk - The MoneyAware blog gives advice and information to help people from falling into problem debt.
You can also visit Stepchange's full online budgeting and debt advice tool – Debt Remedy. It takes around 20 minutes and provides personalized recommendations to help people take their first steps out of debt Debt Remedy Tool
Citizens Advice - for free help and advice on debt, housing, work, benefits and family matters.
https://www.moneyadviceservice.org.uk/en - for free money advice

Not Sure What A Loan Shark Is?
If you can answer yes to one or more of these questions you might be borrowing from a loan shark:
Did they offer you a cash loan?
Did they not give you paperwork?
Did they add huge amounts of interest or APR to your loan?
Have they threatened you?
Are you scared of people finding out?
Have they taken your bank card, benefit card, passport, watch or other valuables from you?
Unify Credit Union is proud to work in partnership with the Illegal Money Lending Team who provide emotional and practical support for victims of loan sharks. For further information plese visit their website
If you are struggling to repay a loan from Unify Credit Union, talk to us first. Our Credit Control team want to help you work through your difficulties and there are lots we can do to alleviate the stress you are currently under. Give us a call on 01942 835184 or email creditcontrol@unifycu.org