Save money on food
Wednesday 04th Jan, 2023
Food pantries offer a real alternative to supermarkets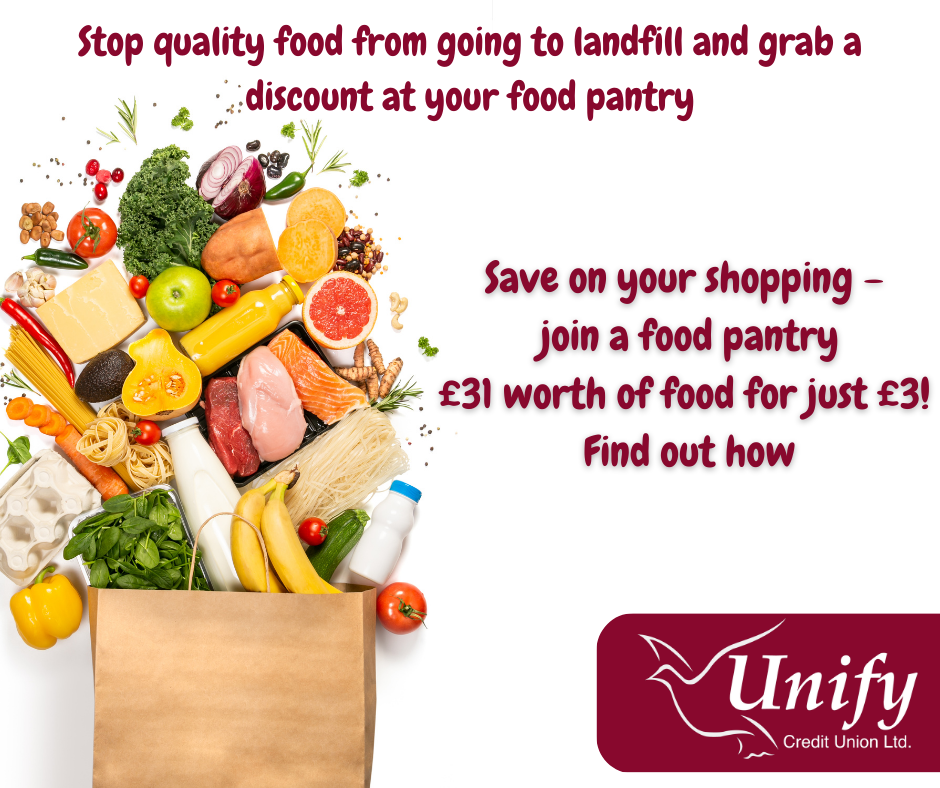 Feeling the strain after all the Christmas spending and looking for ways to save? Maybe you could change the way you shop.
Food prices are going up and up but there are alternatives to the big supermarkets that could help put money back in your pocket.
A food pantry or social supermarket is a shop that sells discounted food to their members.
It is not a charity which gives handouts or needs an emergency referral like the food banks, but they are often run by volunteers in the community and help people to access quality food that the big supermarkets might send to landfill.
Unify Credit Union recommend food pantries as a way to reduce your spending. We did a trial shop at one of our local pantries and picked up £31 worth of food for just £3!
Different pantries work in different ways. Some are smaller and are held in community spaces where other support is available, others will feel just like your local high street shop.
Give it a try this new year.
Here are all the schemes we've been able to find locally:
WIGAN AND LEIGH
The Bridge at Leigh. 6 The Avenue, Leigh, WN7 1ES.
A well-stocked social supermarket with low prices. Open 10-3 Monday-Friday.
Community Grocery. The Edge, Riveredge, Wigan WN3 5DZ.
£4 per shop and up to 3 shops per week. Each shop can include 5 portions of fresh fruit and veg, 7 canned or boxed shelf items, 1 freezer item, 1 bakery item, and one non-food item. Extras can be added for a small charge. Membership also includes free access to courses on money management, employment skills, life skills, cooking and legal aid.
Open 9-4 Monday & Tuesday 9-6 Wednesday 9–4 Thursday & Friday.
Ashton Pantry. St Thomas Church Hall, Warrington Road, Ashton-in-Makerfield, Wigan WN4 9PL.
11-12 Tuesday, 3-4 Thursday, 11-12 Saturday, 3-4 Sunday.
£3 per shop for up to 20 items
Tom's Pantry. Saint James Centre, Church St, Wigan, WN3 5DZ.
£2 per shop for up to 20 items.
Open 9:30-11:30am Tuesday, Wednesday & Friday.
St Nathaniel's. St Nathaniel's Church Hall, Warrington Road Platt Bridge, Wigan WN2 3TD.
£3 per shop for up to 20 items.
Open 9-12 Thursday
Jed's Pantry. St Stephen's Church, Whelley, Balcarres Ave, Wigan WN1 3UR.
One shop a week. £1.50 for up to 10 items or £3 for up to 20.
9-11:30am Tuesday.
The Pantry. Christ Church, Ince, WN3 4RF.
£3 per shop for up to 20 items.
Open 9-12 Thursday & Friday.
LANCASHIRE
Chorley Good Food Clubs
A £10 annual membership and a £4 weekly subscription gets you access to up to £25 of food per week.
All Clubs open from 10.30-12.00pm
There are 3 Chorley Good Food Clubs as follows:
Chorley #1 Good Food Club at Buttermere Community Centre - Thursday
Chorley #2 Good Food Club at Coppull Methodist Hall - Wednesday
Chorley #3 Good Food Club at St Joseph's Parish Centre, Harpers Lane – Tuesday
https://www.facebook.com/SVP-Chorley-Buddies-101866848131160/
Whitby's Pantry Preston
Join as a member for just £5 a week and access a weekly shop for all your essential food, grocery and toiletry items, worth approximately £25, and check each week for new stock! Plus all fruit, vegetables and bread are always FREE.
The Intact Centre 49 Whitby Avenue, Ingol, Preston PR2 3YP
Opening:
Tuesday 9am – 3.00pm
Wednesday 9am – 12.30pm
For more information phone 01772 760 760
Project Fit Preston
£2.50 per food bag.
18 Derby Street, Preston. Open Thursdays 11:30-1:30pm.
Later collection and deliveries into South Ribble are an option if requested before 12.
https://www.facebook.com/projectfitpreston/
WARRINGTON
The Bread and Butter Thing
TBBT is a food club. For just £7.50, TBBT members' shopping bags are filled with a minimum of £35 worth of items made up of quality nutritious food. Each week members access three bags of produce including fresh fruit and veg, chilled goods for the fridge, as well as cupboard staples such as pasta and cereal.
www.breadandbutterthing.org/contact ; email hello@breadandbutterthing.org ; text 07860 063304
TBBT operates at a range of locations across Warrington.
Monday 2pm The Old School, 17 Fairfield St, WA1 3AJ
Tuesday 1:30pm Sankey Bridges Community Centre, Old Liverpool Road, WA5 1EB
Wednesday 2:30pm Dallam Community Primary School, Boulting Avenue, WA5 0HA
Thursday 1:30pm The Table, Birchwood C of E Primary, Admirals Road, WA3 6QG
Friday 1:30pm Westy Community Centre, 73-75 Bridgewater Avenue, WA4 1TA
ST HELENS
St Mark's T.A.N.G.O Pantry
£4 weekly subscription to access food including fresh fruit and vegetables and store cupboard favourites that will value £15-£20 or more.
St. Marks Centre, Park Street, Haydock, St. Helen's, WA11 0BH
Opening Thursday 8.50am - 11.00am
Please contact Claire Leathers for further information on 01744 602641 and foodpantry@stmarkshaydock.org
Share This Story